"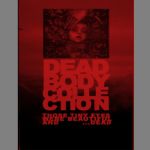 Those Tiny Eyes Were Beautiful And...Dead" is a C60 cassette
release from late last year which offers up two sides of grim, numbing & extreme walled noise from this highly prolific & ghoulish subject themed Serbian project.

Theme wise this is possible one of the most(to my mind) disturbing DBC release thus far, as it's all about dead children- the cover features a very troubling & disturbing picture of a child's buried dead face….I guess this must be sourced from some sick movie still or internet search, but it's very troubling & unpleasant.


Moving onto the sonic 'walls' with-in & each side is a fairly text book example of DBC's unrelenting, ghoulish & brutal take on HNW. Each side long track is based around a drilling & descending mid-paced bass throb/judder that's played over by a tightly reined jittering 'n' purring tonalities. Both sides of noise are deeply oppressive and sinisterly entrancing in their attack & unfold, and at times one almost feels like your being slowly but surely buried under the grim & ghoulish throb 'n' drill of the track. Side ones 'wall' has a muffled & suffocating quality, where as side twos 'wall' feels a bit more pressing & intense; though both sides are fairly similar in there textural make-up.

So this particularly unsettlingly themed release offers up two mid-length examples of DBC's locked, unrelenting & death/decay scented walled noise. To sum up a disturbing theme & two entrancing if a little predictable slices of ghoulish HNW.
So all told this C70 tape offers up two brutal, crude and bass bruising lessons in extremely and violent wall making. I very mu

ch like the subtle junk metal and brutalized sludge industrial traces running through both tracks here, and this release is another enjoyable yet painfully ride in DBC's extreme from of sonic torture.




by Roger Batty
taken from:

http://www.musiquemachine.com/reviews/reviews_template.php?id=3298